#tableautipsmonth number 3, please find the first two here and here.
Highlight don't filter!
This is going to be a short lived tip as Tableau has announced highlighting back in Vegas, but while that doesn't make it to our desks there's a simple way to highlight without filtering.
Here's the example, click the image for interactive version and to download the workbook.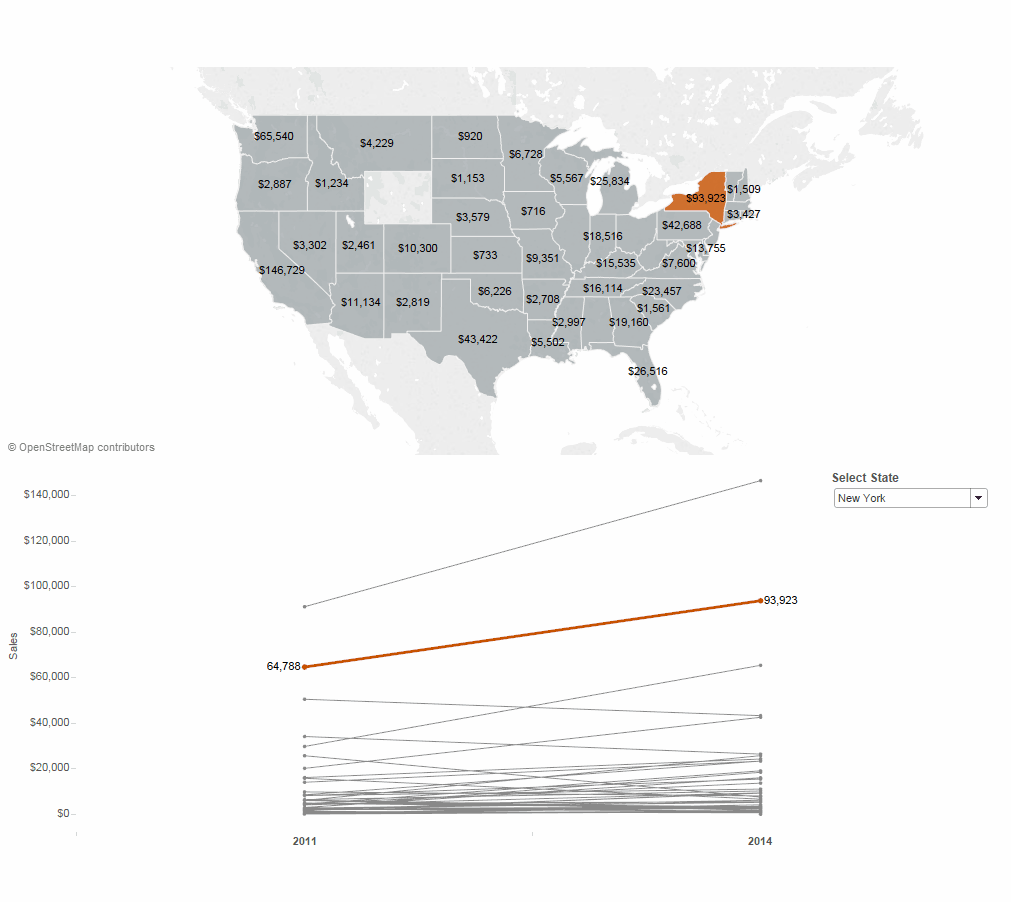 Let's start with the slope chart:
1- Build the chart, there are a few examples on how to build them, but here's Ben Jones example. Slope Chart by Ben Jones
2- Create a parameter as a string, list and add from field. In this example I'm using Tableau's Superstore so I'll be adding state from the field.
3- Next step is to create a calculated field where our parameter equals the state field.
4- Bring the new calculated field to colour and show parameter. As you select a new state the line will change colour to the one that matches the boolean statement.
If you are also doing a map the principle is the same, just create a map, add the calculated field to colour and show parameter colour.
I often take it a step further by adding the calculated field to size, but make sure the size difference between true and false is not too big otherwise your audience may draw the wrong conclusions.
I like to add labels to the highlighted slope line and to do that you'll need to create one extra calculated field that goes like this:
Drag the newly create calculated field to rows, create a dual axis, synchronize, right click the axis on the right, "bring marks to front" and click "show header" to hide the it.
Next, on your marks area you can remove some of the elements from Sum(Sales) and add label on the Legend mark. See below:
If you do not wish to show all labels at the same time on a map and only when the state is highlighted, just bring your Legend calculated field to Label. See final example below:
As I said at the start of this post, Tableau have already announced highlight in one of the next releases but in the meantime I think this is a good alternative.
Hope you found it useful and thank you for reading.
David